Green biorefining may be the key to agriculture's European Green Deal
On November 17, approx. 150 researchers, politicians and stakeholders participated in a webinar to discuss and provide information about the perspectives of green biorefining for European agriculture. The webinar was held in cooperation with members of the European Parliament as well as representatives from the European Commission.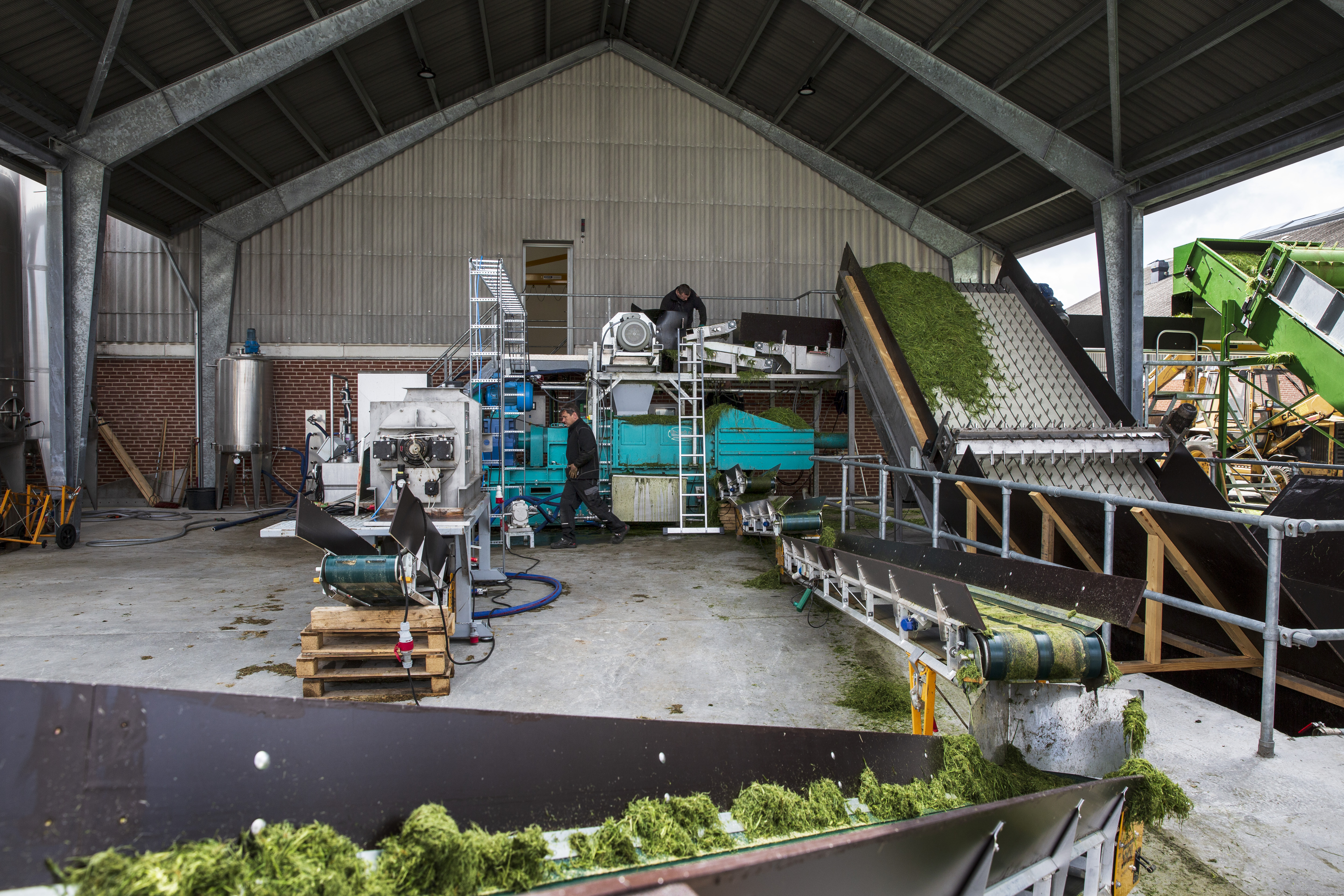 The European Commission has launched the "European Green Deal", which is aims to ensure that the EU is climate neutral by 2050. In order to achieve this goal, a number of sectors, including agriculture, need innovative thinking. This is described in the Commission's "Farm to Fork" strategy, where the most important goals are to ensure the lowest possible climate and environmental impact from agriculture, and – at the same time – to support sustainable growth and development in rural areas within food production, including an ambitious increase in organic production.
"We need new and innovative solutions if we are to meet the visions presented in the Green Deal", says Senior Researcher Uffe Jørgensen, Head of Aarhus University Centre for Circular Bioeconomy (CBIO). He further points out that green biorefining – supplying among others high-quality protein from grass – has the potential of becoming an important element when creating a greener Europe.
Webinar on European perspectives
Therefore, CBIO organised a webinar about the European perspectives in relation to green biorefining. The webinar was held on November 17 with the participation of about 150 researchers, decision-makers and stakeholders.
Danish members of the European Parliament, Asger Christensen and Pernille Weiss, hosted the webinar. The event was originally scheduled to be held as a conference in the European Parliament in Brussels, including an exhibition, but due to the COVID-19 crisis, the event was held online.
By way of introduction, the MEPs Pernille Weiss and Asger Christensen and member of the Cabinet of the Commissioner for Agriculture Jorge Pinto Antunes informed about the political framework. The EU is facing a modernization of the Common Agricultural Policy, and is about to enter a new programme period for the EU research and innovation program, Horizon Europe. In addition, a new European Climate Law is in preparation.
Against this background, it was very important for the researchers to inform about the potentials of green biorefining. The three researchers were Uffe Jørgensen from CBIO, James Gaffey from the Irish Institute of Technology, Tralee, and Johan Sanders from the Netherlands. Johan Sanders, previously Professor and Head of Research at Wageningen University, now runs his own advisory and entrepreneurial company within biorefining of green biomasses.
The three researchers agreed that research demonstrates that the cultivation of perennial green biomass crops will help reduce the use of pesticides, reduce nitrogen leaching and contribute to soil carbon storage.
In cooperation with farmers and feed producers, all three researchers work with biorefining plants at a practical level, and the results from these efforts further concordantly demonstrate that plant protein extracted from green biomasses can replace imported soya and help establish local value chains and jobs in relation to the biorefining plants in rural areas.
A part of the Green Deal for Europe
Representatives from the European Commission's Directorate-Generals for Agriculture, Climate and Research participated in the webinar and reflected on the researcher contributions.
There was general agreement, that it is a very impressive effort to go from laboratory level to the first commercial plant in less than ten years. In addition, it was recognized and appreciated that if green biorefining is to succeed as a business model, then farmers need actual incentives to be part of this.
One of these incentives may be a form of carbon crediting system, which is known from other sectors. Specifically, the Commission will launch carbon farming initiatives under the new Farm-to-Fork strategy with a view to preparing the European Commission's Circular Economy Action Plan, which will introduce systems across sectors for carbon removal certification from 2023.
"We received major support from the webinar participants, and it is my impression that they really appreciated it. It is particularly interesting that the European Commission is right now in the process of developing a concept for carbon crediting. It is a very exciting project for us as it may help develop biorefining based on grass fields into an even better business case than it already is. This work area is obviously ready for development, although many uncertain factors exist, but it is in process and I find it very exciting to follow and hopefully also participate in these efforts", says Uffe Jørgensen.
Political goodwill
MEP Asger Christensen is also a farmer. He stated that both he and Pernille Weiss are eager to further purposea proper framework for further development and implementation of green biorefining. As a farmer, Asger has a dream of feeding his animals protein produced in Europe, contributing to the environmental agenda and of creating concrete business opportunities in rural areas.
Director Niels Halberg, DCA – Danish Centre for Food and Agriculture, acted as a moderator at the webinar. He was very satisfied and pleased with the webinar and expressed his thanks to both the European Commission and the two MEPs for their involvement and support. "Green biorefining holds a major potential in the necessary development of European agriculture; specifically considering the Farm to Fork strategy. I am pleased to see the political goodwill when it comes to creating the optimal development opportunities for new disruptive technologies."
More webinars in the making
The webinar held on 17 November, was the first in a series of seminars arranged by CBIO to be held in the coming winter and spring. The next will be on 3 December 2020. Just like the webinar recently held, the future seminars will also be online, however their focus will be of a more technical nature.
The seminar on 3 December 2020 will deal with the available technologies for green biorefining. It will be held in English, and you can find detailed information here.
Find a recording and presentations from the webinar on 17 November here.
Contact
Uffe Jørgensen, Head of Aarhus University Centre for Circular Bioeconomy (CBIO)
uffe.jorgensen@agro.au.dk
- Mobile: +45 2133 7831